I'd like to be / under the sea / in an octopus's garden/ in the shade
Well, we may never get to live out Ringo's maritime fantasy, but we can still share in the wonders and beauty of the world's coral reef's…thanks now to the Global Reef Record — a survey of the world's most vital coral reefs which commenced in September of 2012.
And just last month, the survey's sponsors launched a free (for viewing) database of stunning (high-resolution) coral reef images. Compiling of these images is still in progress and some are featured here (see below).
Enabling this ambitious photo-documentation is a unique underwater camera that takes photos in three directions (left, right, down) simultaneously; the images are later digitally "stitched" together to form the beautiful panoramic images that constitute the growing database.
"The Catlin Global Reef Record will, for the first time in history, make ocean change plainly visible for all to see– it's a game changer " ~ Professor Ove Hoegh-Guldberg, director: Global Change Institute (Brisbane, Australia)
Now in its second year, the Global Reef Record — a central project of  the Catlin Seaview Survey (funded by international insurer the Catlin Group Ltd.) — will continue its mission of documenting ("transecting") the world's coral reefs through 2014 where it will begin photographing the legendary biological 'hotspot' known as the Coral Triangle in the Western Pacific Ocean, along with sites in SE Asia, the Indian Ocean, the Middle East and the Central Pacific. With only 2 major coral reefs sites documented so far (one completed, and one still underway), the surveying mission has its work cut out for it.
The survey is being called "the world's largest stock-taking of corals in history" and it is as much about science and conservation as it is about the appreciation of the wonders of Nature. The survey will serve as an invaluable resource for both scientists and conservation groups in the years to come as these productive sites are further impacted by climate change and human industrial activity and pollution (right photo: transparent shrimp, Myrmidon Reef, Great Barrier Reef system).
According to the website:
'The Catlin Global Reef Record is a research tool aimed at collating and communicating the coral reef science of the Catlin Seaview Survey and combining that information with data from other leading sources of ocean research. This free database will provide scientists across various disciplines of marine studies with a tool for analyzing the current state of the reef ecosystems on a local, regional and global scale and monitoring changes that occur over time.'
The project was designed through a scientific partnership between the  Global Change Institute at the University of Queensland with additional help (data and analysis) from the World Resources Institute, the Scripps Institution of Oceanography, and NOAA.
Helping to create the survey from the very start is Richard Vevers,  an advertising executive turned underwater photographer. "It's about revealing the oceans to the world," said Vevers, in an interview with Science Magazine ('Random Sample', Science, 4 October, 2013, pg. 21).
The project has already acquired numerous partners, including the IUCN and Underwater Earth, with even Google diving in with its Google Oceans — offering virtual divers "street views" of the Great Barrier Reef — the world's biggest single structure made by living organisms (and it can be seen from space!) — located off the NE coast of Australia (Queensland) in the Coral Sea. The Great Barrier Reef is composed of over 2,900 individual reefs and 900 islands and covers an area of 2,600 km (1,600 miles).
One of the more recent expeditions for the survey (begun in late September 2013) has been the threatened reefs around Bermuda in the Atlantic Ocean. This particular survey is being co- sponsored by NOAA and the Scripps Institution for Oceanography and seeks signs of coral bleaching — one of  the leading contributors to coral mortality, caused by prolonged heating of the seawater
Note: thermal stress from seawater warming often co-occurs with ocean acidification due to increased absorption of CO2, which reacts with water to form carbonic acid, which in turn reduces the saturation level of aragonite, a calcareous mineral corals need to create their "backbones".
Researchers at Scripps will be employing a new imaging algorithm to help them detect early-stage bleaching not visible through conventional ocean "transects".
Watch this 2 minute VIDEO of underwater photographer Richard Vevers at work (article, with photos, continues below):
[youtube http://www.youtube.com/watch?v=LBmrBOVMm5Q]
(Continued) The world's coral reefs — often described as underwater "farms" or even "rain forests of the sea" due to their great productivity and biodiversity — face several critical threats, generally divided into two categories: local and global. The analysis report Reefs At Risk, Revisited * (available through the Global Reef Record website), elaborates on these threats:
Local threats:
Coastal development, including coastal engineering, land filling, runoff from coastal construction, sewage discharge, and impacts from unsustainable tourism.
Watershed-based pollution, focusing on erosion and nutrient fertilizer runoff from agriculture delivered by rivers to coastal waters.
Marine-based pollution and damage, including solid waste, nutrients, toxins from oil and gas installations and shipping, and physical damage from anchors and ship groundings.
Overfishing and destructive fishing, including unsustainable harvesting of fish or invertebrates, and damaging fishing practices such as the use of explosives or poisons.
Global threats:
Thermal stress, including warming sea temperatures, which can induce widespread or "mass" coral bleaching.
Ocean acidification driven by increased CO2 concentrations, which can reduce coral growth rates.
Apart from conservation efforts, a few climate change thinkers are contemplating localized geoengineering schemes to protect key coral reefs, such as
Marine Cloud Brightening (MCB)
, which involves creating a local atmospheric "parasol" to shade reefs from further warming — although this is an entirely unproven concept, and could also produce other unwanted effects (and would not protect reefs from pollution or unsustainable fishing).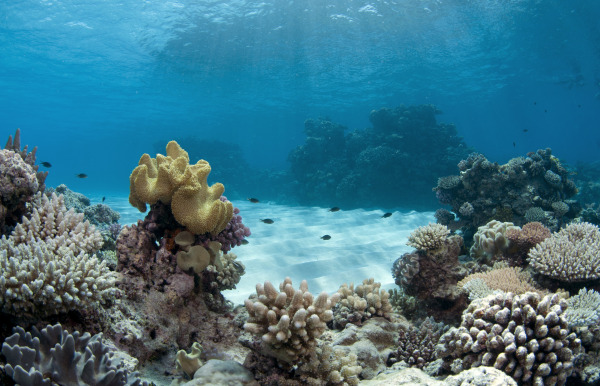 A "perfect Coral Sea lagoon", Coral Sea, off NE coast of Australia  (photo by Jayne Jenkins; courtesy of Catlin Sea Survey)
 ~~~~~~~~~~
* Reefs at Risk Revisited (authors: L. Burke, K. Reytar, M. Spalding, A. Perry) is a project of the World Resources Institute (WRI), developed and implemented in close collaboration with The Nature Conservancy (TNC), the WorldFish Center, the International Coral Reef Action Network (ICRAN), the United Nations Environment Programme – World Conservation Monitoring Centre (UNEP-WCMC), and the Global Coral Reef Monitoring Network (GCRMN). For a full list of the research institutes and agencies contributing data to this report, visit the link provided above.
Top Photo: Seaview Survey diver with the SVII camera; source: Catlin Seaview SurveySecond From Top photo: transparent shrimp, Myrmidon
Island reef (Great Barrier Reef system); source: Catlin Seaview Survey
Additional Photos: Catlin Sea Survey
Bottom Photo: Courtesy of Jane Jenkins