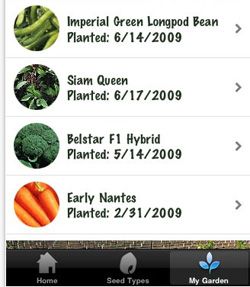 There is no way to be a casual gardener. Once you begin you become obsessed, and with good reason. The process of gardening is incredibly cathartic and calming. It eases stress, boosts energy, is good for the body and can help clear the mind. The end results are often beneficial, whether in the look of a flower bed and the sweet smell of its blooms, or the use of vegetables and herbs in your daily cooking. Is it any wonder it is such a popular pass time even in the modern age?
But it can get a little costly, especially when you are just starting a patch. Bulbs are expensive and you need a lot of seeds to make sure a vine will take. Not to mention fertilizer, tools, any sprays that might be needed and even the proper attire. This is a problem for many of us that have to live life on a budget. I know I personally buy all I can during off seasons to gather what will be necessary when spring comes. But that isn't an option when it comes to the actual plants, and buying bulbs or blooms is a purely seasonal affair.
Because of this, I try to find cheap little helpers anywhere I can. We all already know the benefits of buying from local greenhouses and growers versus large depots, and checking around for opening season sales in nearby gardeners advertising online. But did you know you can use your iPhone for gardening, and at a cheap (and sometimes free) price? It's true, and below are three great garden applications for anyone who wants to use their green thumb without spending too much green to do it.
Keep in mind that these apps are usually free with a subscription.
iPlant

The most comprehensive resource I have found, iPlant is an encyclopedia of fantastic information. It has every plant you can imagine, from flower to herb to tree, and it gives a lot of facts on each one. There are common and Latin names, medicinal uses, food uses, descriptions, history and origins and warnings for each. You can also submit your own feedback.
Price: $1.99 or free with subscription.
Flower Garden
For both the iPad and iPhone, Flower Garden is a pointless app. Now, that out of the way, it is a lot of fun. Basically, you make your own bouquets by growing them with plants, flowers, herbs or decorating them with special items.
Then you send them to contacts vis SMS. It is cute and entertaining, and it can actually get you into the mood to do your own real gardening. It might even give you some interesting ideas for arrangements.
Price: $1.99 or free with subscription.
Pocket Garden
Pocket Garden is more like a planner for vegetable growers who want an organic garden. It works by allowing you to get information on various seeds and learn the best times and ways to plant them. You can pan it around what you already have as well, and create a virtual blueprint of sorts to help you along. This is probably the best I have seen and I have seen a lot of apps for there for gardeners.
Prince: $0.99 or free with subscription.
Whether you are into square foot gardening, typical row gardening, or something else, these apps should be fun and help you out in your green endeavors. Are you using any other fun apps for gardening? Please share them!
Jessy is a frugal blogger and an eco-friendly mom from Australia.